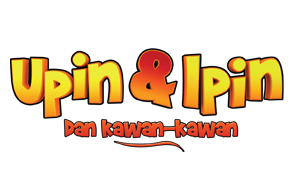 Upin & Ipin is the title for a series of short animations produced by the animation company Les' Copaque Production in Malaysia, as well as the names of the two main characters of the series. Upin & Ipin is the byproduct of the Geng: The Adventure Begins film which also features the main character of the animated series.
At first, Upin & Ipin published in conjunction with the month of Ramadan in 2007 at TV9 (Malaysia), with the aim of educating the children to appreciate the glorious meaning of the month, is now beyond five seasons and is not limited to television, even in DVD form and video streaming over the Internet. Upin & Ipin also successfully marketed abroad, especially the neighboring country of Indonesia.
Due to the success of regional audiences, Upin & Ipin is listed in Malaysia Book of Records as the "Most Successful Animation" in 2011. After the Geng: The Adventure Begins film, character Upin & Ipin starred in another movie titled Laksamana Upin & Ipin which released in 2012.
Upin and Ipin are five-year-old Malay twins who and their elder sister Ros and grandmother Uda (whom they call Opah) in a village house in Durian Runtuh Village. They have lost their parents in their infancy. Upin and Ipin study in the village kindergarten called Friendly Kindergarten, where they with a group of classmates, including the adorable and right-thinking Mei Mei, a joker and poetic Jarjit, the clumsy and short-tempered Ehsan, an easygoing and sarcastic Fizi, and an entrepreneurial and meticulous Mail.
The headman of Durian Runtuh Village is Isnin bin Khamis, better known as Tok Dalang, the shadow play champion. Tok Dalang keeps a cluster of rambutan trees for commercial purposes, and a rooster named "Rembo". Among the village's other notable residents are Muthu, owner of the village's only food stall who lives with his animal whisperer son Rajoo and pet steer Sapy; Salleh (Sally), a transgender-apparent who owns a mobile library; and Ah Tong, a strident-voiced vegetable farmer. A new character was later added in the series who is an Indonesian girl named Susanti who moved in with her family.
Main article: List of episodes of Upin and Ipin
Characters
Edit
Main article: List of Upin & Ipin characters
Since December 2009, Upin & Ipin have been adapted into a monthly comic magazine series, aptly titled Majalah Komik Upin & Ipin to be circulated all over Malaysia, published by Nyla Sdn Bhd.[1] Targeted at young readers, the magazine features screenshot comics of the Upin & Ipin TV series and the Geng: Pengembaraan Bermula film, voice actor and production crew profiles, and learning and activity sections.
Reception and Influence
Edit
The Upin & Ipin franchise has wielded its influence in countries of the Malay archipelago, notably in Malaysia and Indonesia which share linguistic and cultural similarities. Its first season landed its first award, for Best Animation in KLIFF 2007.[2]
While season two was on air on Ramadan 2008, it was reportedly watched by 1.5 million viewers on TV9,[3] making it the second most-watched animated series on all of Malaysian television, right behind Doraemon (1.6 mil), yet ahead of SpongeBob SquarePants (800,000).[4] The popularity of Upin & Ipin could have attributed to the commercial success of Malaysia's first CGI-animated feature film, Geng: The Adventure Begins (2009), which featured the twin characters Upin and Ipin, propelling it into the RM 6.31 million mark throughout its seven-week run in Malaysian cinemas as one of the highest-grossing Malay-language films in history.[4]
As the third season reaches its conclusion in late 2009, TV9 reports that Upin & Ipin was viewed by 1.6 million, making it the second most-viewed programme on the channel, just behind the free TV premiere of Geng which was watched by 2.45 million (scoring TVR 12.8).[5]
Indonesia has been the most obvious export market for Upin & Ipin. In 2009, MNCTV which airs the series in the republic reported a TVR of 10.5.[6] Upin & Ipin has also been praised by the Indonesian press; for instance, Fadil Abidin for Analisa who remarked on the vastness of moral content and Islamic values, such as respect for those of different ethnic or religious backgrounds, in a communal setting consisting not only of Malays, Chinese and Indian Malaysians, but also Indonesians.[7]
In March 2010, as the Balinese Hindu community prepare for Nyepi, images of ogoh-ogoh (demonic effigies used for the famed ngrupuk ritual on the eve of Nyepi) which largely resemble Upin & Ipin were exposed on Indonesian media. The effigy reportedly cost 4 million rupiah.[8]
2007 Kuala Lumpur International Filem Festival[2]
2009 Shout! Awards[9]
NEF-Awani ICT Awards 2010[10]

NEF-Awani Tun Dr Mahathir Award

The BrandLaureate Awards 2010[11]
Anugerah Bintang Popular Berita Harian 2012

The Most Popular Local Animated Character

UNICEF Malaysia's National Ambassadors 2013
References
Edit
External links
Edit
Community content is available under
CC-BY-SA
unless otherwise noted.